Daisy chaining network switches, as its name implies, connects each switch in series to the next like the petals of a daisy. It is the simplest way to add more switches to a network.
The following diagram is an example: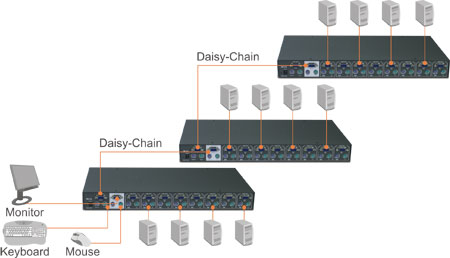 Here are some key considerations and best practices when daisy chaining network switches:
Avoiding Bottlenecks
By daisy chaining multiple switches like this, you will potentially create bottlenecks (contention) in your network where multiple devices are all sharing a single trunk back to the network. If the main objective of your network is to share internet connectivity around the location to multiple devices then in practice this won't really be an issue as the chances are the LAN data throughput rates will usually be faster than your Internet connectivity. If, however, you are pushing large video files between various devices on the network then local network contention could become an issue.
Network Reliability and Redundancy
The other main point to consider is network reliability. If the cable to the first switch became damaged then you would lose your entire network if everything goes through that one cable. With multiple drops/feeds, if one cable gets damaged you won't lose everything. Plus, additional cables give more options for future changes/expansion.
The cost of the cable itself is negligible compared to the cost/inconvenience of running it. While running any cabling it is always advisable to at least run twice as much as what you want today, as you might want more tomorrow or one might get damaged down the line.
Unless the proposed cable routes are really easy and straightforward to quickly repull the cable at a later date if needed, then we would recommend running at least 2 cables between points A & B. Even if you never end up using that 2nd cable, at you know it's there and it gives you some options. A spare for redundancy, another drop that could be extended to a future extension or elsewhere.
We hope this article was useful to you, please leave us a comment or feedback as it will help us improve our customer support center.