Users have found Spot incredibly useful to see all their cameras and find relevant video footage in seconds by using our several search features.
Cases will help you collaborate on videos. No more downloading it or sending links on multiple email threads or Microsoft Teams or Slack. All the collaboration, including annotating videos, tagging people, tagging a specific time-frame and assigning multiple videos to the same report etc. happens from within the Spot dashboard - inside our new feature called "Cases".
Cases is a one stop video collaboration tool for your team. Early access users are already using Cases to coach employees by adding videos for training. Others others are using it for investigative purposes after a security incident amongst many other use cases.
Here's how Cases work
Creating a new Case
Method 1: Click on Cases on top menu and then click on "Create Case"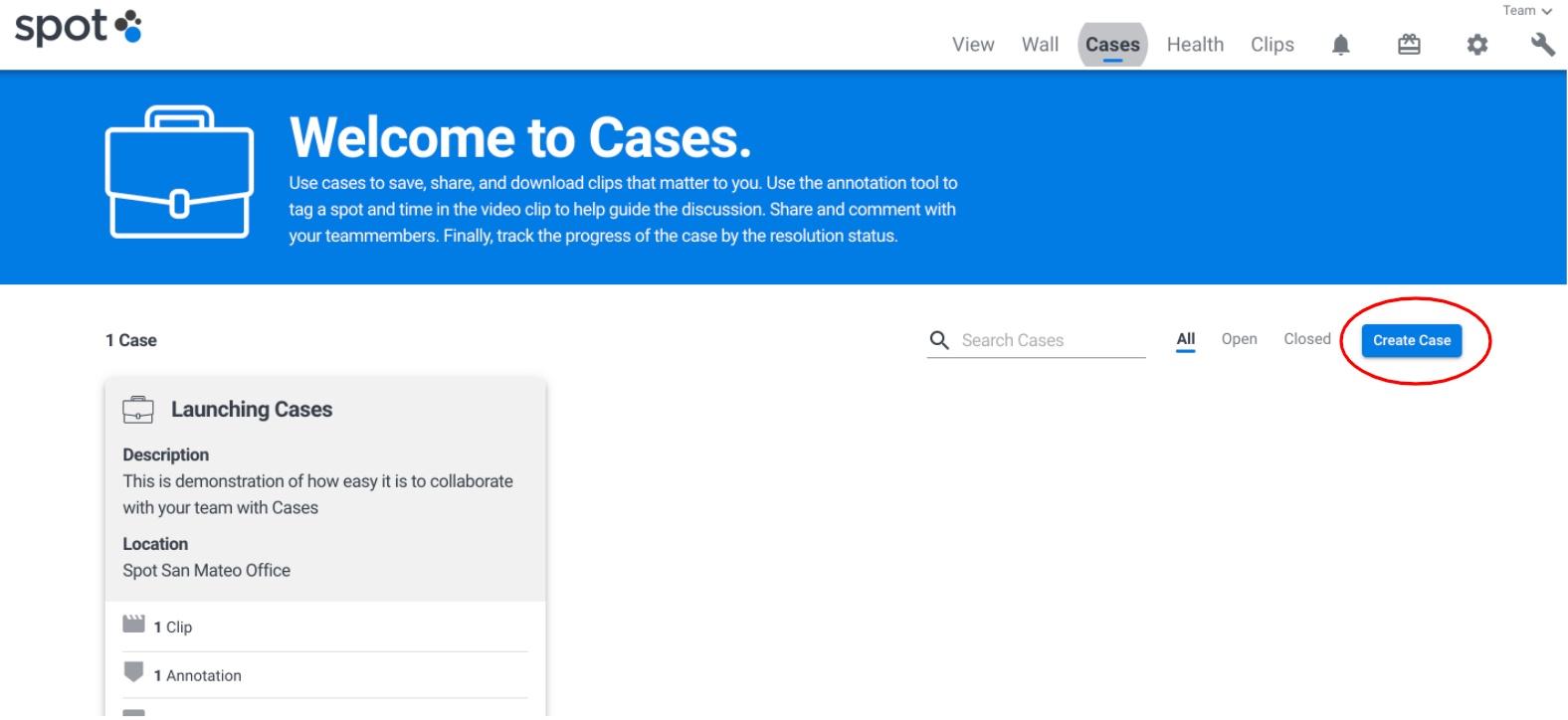 Method 2: Create a new Case while reviewing a relevant video footage by clicking on "save clip" icon
Add a title, description and collaborators to each new case and begin collaborating with your team.
Adding video to Cases
All videos saved to Cases are saved indefinitely.
Method 1: From within a case, click on "Find and add more clips" and then find the relevant video footage and click the "save icon" on the player
Method 2: While watching any video segment, click on save icon and add to an existing Case or create a new one
Adding comments,

collaborators
and annotations to videos
Comments: Adding comments is as easy as Facebook or Slack / Microsoft Teams. One can comment on the Case or respond to a specific comment with a threaded response.
Adding Annotation: Annotations make it incredibly simple to point to specific objects or instance within a video frame and leave a comment drawing attention to that specific object or instance within the video frame.
Each annotation gets assigned a unique alphabet reference in the video and clicking the newly created "alphabet icon" allows others to skip to the annotated part of the video.
Watch this 20 second video to see how it works:
Tag People: Just like any messaging platform, just use @firstname while writing comments and it will tag the relevant user and send them an email with your comment and link to the Case. You can also add collaborators to the case by clicking on "+Add a collaborator" button on top right.
Time-Tags in comments: To draw attention to a specific time in the video, just add the time on the video player in the comment i.e. "watch the video at 1:49". The timestamp of "1:49" will automatically get hyper-linked and clicking it will pull the relevant video and timeframe in the video player.
Automatic email updates
All collaborators get an instant email every-time a new video is added to a Case they are part of. Also, any comments tagged with the user's name, generates an immediate email with the comment and a link to the video.
This helps you stay updated on the Case.
Case Resolution
Cases have resolution status that can be toggled open or closed. Closed cases prevent further commenting and activity.
Both open and closed Cases are saved permanently in Spot.
P.S: Saved clips are now cases
All previously saved clips will be converted to cases and be available under the Cases tab
We hope this article was useful to you, please leave us a comment or feedback as it will help us improve our customer support center.